Travel day. fternoon flight from Los Angeles to San Francisco. Starting the day with packing, and my "hand-luggage-only" trip is over. The clothes fit into my bag and new backpack – ish. I have o get a cheap travel bag in Phoenix. Otherwise I have a problem, because ore clothes are comming soon.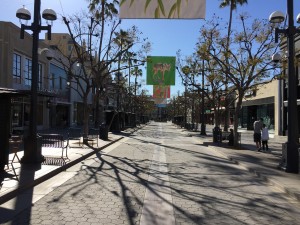 After a breakfast on Third Street Promenad with as strawberry crepe I take an early bus to LAX. A little bit to early, but I do not want to hang around with all my luggage. Bad service at the counter from United Airlines. Not as helpful as you might think of the more-than-helpful americans. SAS has clearly better service (yeah, I said that…) – 😉
Of course I forgot the sunblock in my handluggage *facepalm* but the TSA officer is friendly. Have to buy new at Phoenix – or run around like a lobster. 🙂 Killing time at the terminal. Getting a massage – he hit all the hurtful spots on my shoulder – and listening to my audiobook, having some food and updating my blog.
The flight is delayed… 45 minutes late and they know it hours in advance… grml. In the end the delaz was 90 minutes. Never had such bad service. Grumpz flight attendends and in San Francisco I waied 30 minutes for my bag, that never came… because it was there before my flight arrived. They put it on another flight before mine and never told me. Phantastic.
Got my shuttle to the Aloft Hotel. Nice, big room (everything in the US is Big – I could dance in there). Putting all my electronic stuff on the cables to charge them. Hitting the pillow later than planned. Early up in the morning again.