Bloody time zone. All messed up. Waking at 4 am like it was noon at home.  Nothing to do but writing in my blog and watching som TV. Starting the official day at 7:30 with a sunrise at SFO and some geocaching close by.
Checking out – from a room that was close to a service elevator that was easy to hear every time it was used – and getting the car. Luckyly I was smart to take the hotel that also is home to SIXT. And what a nice car I got. A beautiful Volvo V60 T5. Perfect. Had to pay 20 dollars extra but the car is worth it.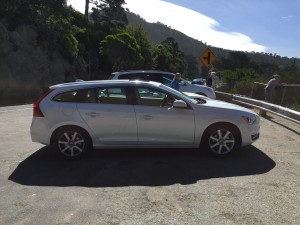 And off I go south on highway 101 to Montrey. Not much traffic and a good travel speed of 100 km per hour. After som time I reach my destination and start with shopping for breakfast. Supermarked like BIG supermarked. Bread cheese and strawberries. Yummy.
Now I can get where I wanted to go. California highway 1 and Big Sur down to San Louis Obispo.
A beautiful trip mostly along the coast. Stops everywhere with scenic views and photo opportunities. I was not the only one. Sunday means that the whole state is on the road. Cars on every spot, avoiding parking where you have to pay and walking from the roadside parking. There were some photos taken. As stupid as it is – the selfie-stick is great to take some pictures of me in front of the great background. 🙂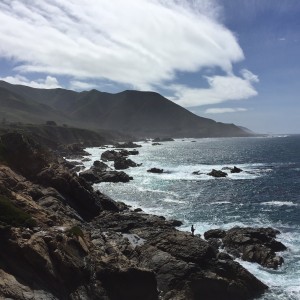 Then the bummer… the lighthouse I  had seen in the guidebook was not open to public, unless you booked a tour which is 3 times a week. Of course I was not there when it was held. And the lighthouse is not visible from the road… so no photo here.
Then bummer no. 2 – Pfeiffer beach that looks so nice on the pictures… Parking lot full. Alternative waiting an hour and if you are lucky you might get in, or an 4 km hike down and back. No time to do that on my tight shedule.
I found a beach – all stones, but worth some photos. Seals sleeping on another beach, squirrels posing for pictures. Enough photo opportunities but the highlights would have been nice. A lot of  places where you can hike for a day or more. Next time.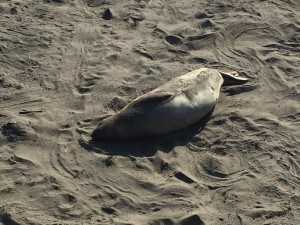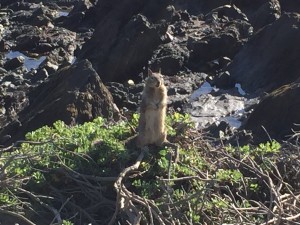 In the late afternoon I arrived in San Louis Obispo. A nice looking town. After some driving I find he right Motel 6 (they have two). Typical motel room. Everything you need, clean and not expensive (62 dollar).
After checking in – and finding out that the US is not supportet by my credit card (which I fixed at once) – I took a tour downtown. Found a place to eat greek food on YELP! that got good comments. And it should have. Lamb kebab with humus, rice and bread. All fresh. Baklva for dessert. Very good food.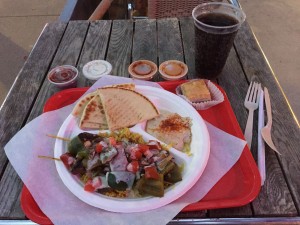 How to kill the evening on a sunday? Go shopping. Target. Found the keyboard for my iPad mini so it is easier to write the blog. 🙂 Shoppig until 23:00 on sundays…
Concluding the evening with writing and CNN. Towmorrow the last 200 miles to LA. Some nice places on the way.