Today I wanted to be a real tourist again and visit the Eiffel Tower. As I was told yesterday, standing in line is on thing you have to be prepared to do. But coming early might get you a chance to get in faster.
The information I got was, that the tower opens at 9 am. So I was there at 8:30 and I was first in line. Some Indian people were joining me. As it happened, the tower opened at 9:30 (summer was over) and luckyly I had a book with me, reading while waiting. A lot of people asking where the line for the tickets was, and YES it is over there, behind some few hundret people. 🙂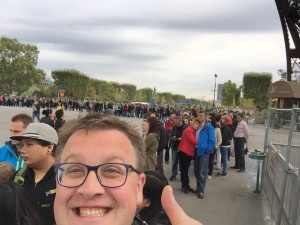 17 Euro to get to the top. An Ok price I think. Just when the tower opened, it started to rain. But but… I'm here so I will do it. Entering elevator no. 1, that gets you up to level 2 (you can walk, but it is a looooot of stairs.
Then I had to change elevators, to get up to the top (the tower is 324 meters high). Just hoping the elevator will hold – it is a long way down. 🙂 Finaly on top, the rain and wind have started for real. Not the best place to be outside at the moment. Getting a glimps of my surroundings and evacuating one floor down, which is surroundet by walls with windows. Must be an amazing view with a clear sky.
After som watching and photographing trough the windows (a polar filter is a good tip here) taking the elevator down to floor no. 2. Sill 100 meter above Paris, the weather is a little better and so is the view. Taking a lot of pictures, buying som postcards for the family until I finaly take the elavator down to the ground floor. Leaving the tower with a good view over hundrets of people waiting to do the same as I did.
The whole day lies ahead… still raining.
TIP: Be early or buy you ticket for the Eiffel Tower online, but it has to be WAYYYY in advance. Take the Metro no. 6 to get there, but exit at Tocadero. There are less people getting out there, less people who want to sell you crap, ad from the stairs you get a great view and pohoto motive on the Eiffel Tower!